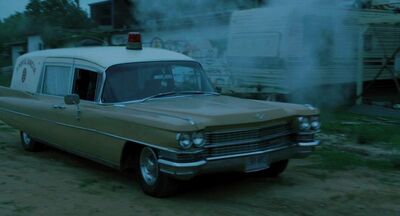 Cadillac Ambulance
is a vehicle seen in
Machete Kills
.
1962 saw the introduction of a dual-reservoir brake master cylinder with separate front and rear hydraulic systems, fully five years ahead of the Federal requirement for all new passenger cars. The first fully automatic heater/air conditioning system was introduced in 1964, allowing the driver to set a desired temperature to be maintained by "climate control". That same year saw the introduction of Turbo-Hydramatic, a modern three-speed automatic transmission that would become GM's standard automatic for several decades. From the late 1960s, Cadillac offered a fiber-optic warning system to alert the driver to failed light bulbs. The use of extensive bright-work on the exterior and interior also decreased each year after 1959. By the 1966 model year, even the rear bumpers ceased to be all chrome – large portions were painted, including the headlight bezels.
In The Film
Edit
Machate and Mendez uses this car.
Ad blocker interference detected!
Wikia is a free-to-use site that makes money from advertising. We have a modified experience for viewers using ad blockers

Wikia is not accessible if you've made further modifications. Remove the custom ad blocker rule(s) and the page will load as expected.