Ford F-Series are Ford vehicles seen in the film.
Overview
Edit
The Ford F-Series is a series of full-size pickup trucks from the Ford Motor Company which has been sold continuously since 1948. The most popular variant of the F-Series is the F-150. It has been the best-selling vehicle in the United States for the past 32 years, and the best selling vehicle in Canada, though this does not always include combined sales of GM pick-up trucks. n the tenth generation of the F-series, the F-250 and F-350 changed body style in 1998 and joined the Super Duty series.
2nd Generation (1953–56)
Edit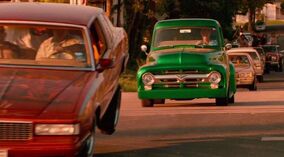 For the 1953 model year, an all-new version of the F-Series made its debut. Increased dimensions, improved engines, and an updated chassis were features of the second generation.
8th generation (1987–91)
Edit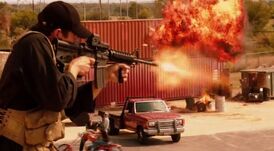 Ford's 1987 F-Series carried over the same body style as the 7th generation, yet sported a new rounded front clip that improved aerodynamics, as well as the softening of body lines around the rear of the bed and fender arches around the wheel wells. The interior was also completely redesigned in 1987.
12th (2009–14)
Edit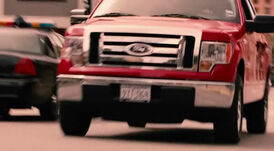 The current-generation F-150 was introduced for the 2009 model year as an update of the Ford full-size truck platform. Similar to its predecessor, These trucks are distinguished by their Super Duty-style grilles and head lamps; standard cab models again have two-doors instead of four. The FlareSide bed was continued until 2010, dropped along with the manual gearbox; outside of Mexico, the Lincoln Mark LT was replaced by the F-150 Platinum. A new model for 2010 included the SVT Raptor, a dedicated off-road pick-up.