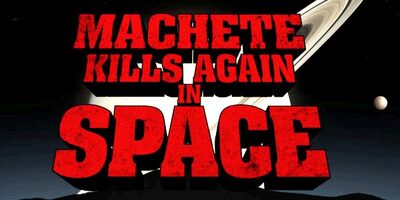 Machete Kills Again...in Space!
is third and final installment of the
Machete
trilogy.
Plot:
Machete is tasked by President Rathcock to take out Voz after trying to start a nuclear holocaust on Earth. Before his mass exodus to a space station which he built. While kidnapping revolutionary Luz who is frozen in carbonite. Along with a bunch of Mexican-Americans who are forced to work/build on the space station.
Characters:
Danny Trejo as Machete Cortez
Michelle Rodriguez as Luz
Mel Gibson as Luthor Voz
Daryl Sabara as Julio (rumored)
Sofia Vergara as Madame Desdemona
Marko Zaror as Zaror
Carlos Estevez as President Rathcock
Lady Gaga as La Cameleon
Speculation:
Penelope Cruz may play the third and new love interest of Machete, after Sartana and Miss San Antonio.
Miss San Antonio may be revived by Voz's healing pool.
El Cameleon may have survived, and his La Cameleon disguise with a male voice, may hint his true face.
Voz's face may be changed into the face of Leonardo DiCaprio by one of his doctors.
Rathcock may be a traitor to make marijuana legal.