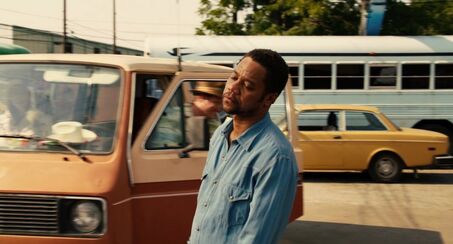 Volvo 242 is a vehicle seen in Machete Kills.
Overview
Edit
The Volvo 200 series is a range of executive cars produced by Volvo from 1974 to 1993, with more than 2.8 million units sold worldwide. The 200 series was essentially an updated version of the 140; both were designed by Jan Wilsgaard. It shared the same body, but included a number of mechanical and safety improvements. The 200 replaced the 140 and the 140-based 164, and overlapped production of the Volvo 700 series introduced in 1982. As the 240 remained popular, only the 260 was displaced by the 700 series — which Volvo marketed alongside the 240 for another decade. The 700 series was replaced a year before the 240 was discontinued.
In The Film
Edit
The car is seen by El Camaleón 2.